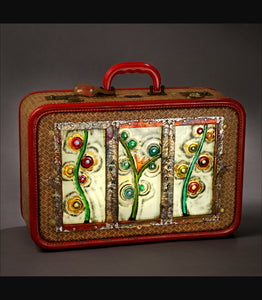 Spring Vacation
I like to think about the previous lives of the second-hand suitcases that I use and incorporate their intuited past adventures into the spirit of the pieces.  Perhaps this suitcase once traveled to a springtime wonderland garden, and the memories of color and flowers still echo within.
The three glass panels that are set behind openings cut into an antique suitcase went through three processes: fusing the glass, painting/firing and the application and firing on of gold luster for sparkly accents.  The suitcase openings are edged in silver leaf, copper and beds.  Comes with 6 foot brown cord with line switch and a low-wattage energy-efficient bulb, ready to plug in.  
Set it on a shelf, a low bench or a table top.  
---