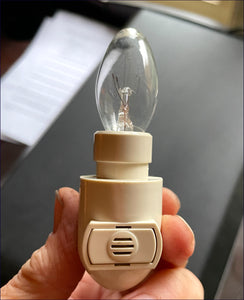 Nightlight part: automatic on/off fixture
Regular price
$6.00
$0.00
Unit price
per
If you'd like to have your Luminette come with a fixture that automatically turns on when it's dark and and off when it's light, this is the nightlight fixture for you.  If you order it along with a Luminette, it will come in addition to the regular nightlight fixture with an on/off switch that comes with the Luminette.  Comes with 4 watt bulb.
Beautiful and unique
The actual nightlight is beautiful. It's a gift, haven't used.
Amazing customer service, beautiful, unique art!
Bought two of the lovely night lights. They are truly unique and it was hard to pick only 2. Later a glitch with the hardware created a mystery and Bella Luz Studio was wonderful to immediately address my concerns. As time went on we had several very nice conversations figuring out the issue. Can't recommend them highly enough! <3
---
// Klaviyo web tracking