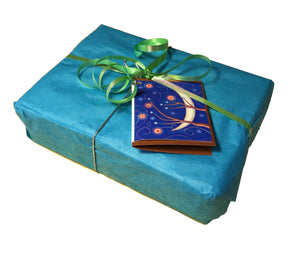 Colorful gift wrap and small card with handwritten message
Regular price
$8.00
$0.00
Unit price
per
DON'T use here to make CHANGES.
Gift Wrap & Message
This is the first time I opted for my two luminettes to be gift wrapped individually with handwritten messages. I liked the burst of colors and the different ribbons that were used. Although the gifts were wrapped well enough, the curling ribbons appeared squashed which I easily recurled to look like new. While I appreciated the handwritten message, I would like to be able to handwrite my own message. Could I request a blank card the next time? Thank you.
Shirley -- yes, you can simply leave the 'write your message here' field blank and I'll know not to write something in the card. Sorry about the crushed ribbon -- I'll try not to pack the shipping boxes so tightly. Cheers -- Joline
Gorgeous!
These nightlights are absolutely beautiful.
Well worth it!
It was lovely and gave an extra element of specialness to the gift.
Beautiful product, lovely gift wrapping!
I ordered gifts, one for each of my sisters, and had them wrapped and sent to two individual addresses. Not only did they arrive within a week, but each sister was thrilled with the beautiful wrapping and the exceptional craftsmanship of their gifts. Thank you, Bella Luz, for an excellent gift-giving experience. You made me look good!
Unique Gifting
I purchased two of the nightlights as gifts for two creative and imaginative people. The perfect gift fo each!
---
// Klaviyo web tracking